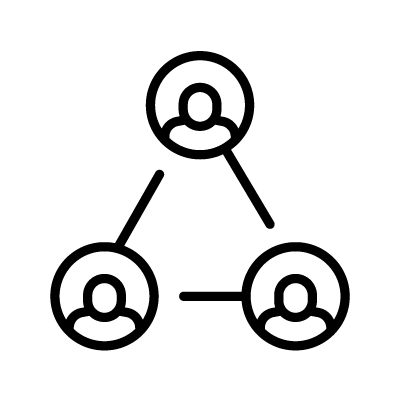 Led by our trustees, directors and youth council, our team of dedicated staff is passionate about supporting young people on their journey to reaching their full potential.
LUKE DOWDNEY MBE
FOUNDER
Luke founded Fight for Peace in Rio de Janeiro in 2000 and led our organisation over the next two decades. Born in London, Luke has been based in Brazil for over twenty years.
ANNE-MARIE PIPER

CHAIR OF TRUSTEES
Anne-Marie is a Senior Partner and specialist charity lawyer at Farrer & Co LLP and provides Fight for Peace advice on all legal issues, including contracts, our federation agreement and charity law.
JENNY OKLIKAH
CEO
Jenny joined Fight for Peace in 2019 and became CEO the following year. Her previous roles include Head of Community Safety at the London Borough of Newham, and Head of Youth Crime and Early Offending at the Home Office.
FAHMIDA SULTANA
HEAD OF YOUTH COUNCIL
Fahmida became a member of Fight for Peace in 2017, initially joining boxing sessions. She has subsequently become increasingly involved at Fight for Peace and has been leading the London Academy Youth Council since 2019.
NICOLA ADAMS OBE
AMBASSADOR
Double Olympic gold medallist Nicola Adams became a Fight for Peace Ambassador in 2015. She has since represented Fight for Peace at a number of events and media appearances, as well as attending training sessions and Youth Council meetings at our Academies.
TRUSTEES
Anne-Marie Piper (Chair)
Andrea Sinclair 
Andrew Fox 
Alex le Vey
Audrey Bampoe 
Renato Lulia Jacob
DIRECTORS
Amy Swart
Jacob Whittingham Vigors 
Susi Taylor
YOUTH COUNCIL
Aimee Wheeler
Angel Mendes Correia
Athena Bashar
Aziza Bashar
Chanel Huseyin
Nathaniel Hounsihoue
Syeda Sultana
Abdul Yassine
Aimee Wheeler
Aladdin Benberna
Allyson Julien
Amy Swart
Ana Vacas
Ari Johnson
Athena Bashar
Belisa Guedes
Bhaltinder Khuman
Carolina Velasquez
Chere Frankson Cheyenne Lester
Darren Hawney
Ebenezer Ayerh
Elizabeth Pyper
Hannah Eghweree
Jacob Whittingham Vigors 
Jameel Moreea
James Morgan
James Wolfe
Jamie Lowe
Janice Eba
Jenny Oklikah
Jhnique Gardner
John McFadyen
John Earle Spence
Julia Stevens
Karen McGlashin
Katie-Wambui Kings
Kellie Magnus
Kenny Udenwoke
Kingsley Crawford
Kurtis Doe
Leonas Greicius
Lethius Charles
Luke Dowdney
Malcolm N'Diaye
Maria Gomes
Mark Cole
Michael Appiah
Michelle Harrison
Mikas Brandao
Munira Mohamed
Mylène Pacot
Nathaniel Housihoue
Nina Wild
Obed Mbwakongo
Patrick Ashcroft
Perry McMahon
Quain Daniels
Rachel Henry
Richard Roach
Ruth Raper
Sally Houghton
Sandra Brown
Sérgio Prata
Shae Diaz
Silvino Domingos
Solomon Wilson
Sophie Currah
Star Joyce
Susana Lo
Susi Taylor
Tupac Ajilore
Valeria Tavares
Vilma Ferreira
FRIENDS OF FIGHT FOR PEACE
Below is a selection of the many high profile guests that we have welcomed to visit our programmes and experience our work first hand. These visits are moments of great inspiration and excitement for our young people and team, and we are very grateful for the support and attention these individuals bring to Fight for Peace. 
SIR LEWIS HAMILTON
Formula One World Champion
HRH THE PRINCE OF WALES & CAMILLA PARKER BOWLES
The Prince of Wales & Duchess of Cornwall
NICOLA ADAMS OBE
Double Olympic Gold Medal winning boxer
ANTHONY JOSHUA OBE
World Heavyweight Boxing Champion
MARVIN HAGLER
Former World Middleweight Boxing Champion
MARTINA NAVRATILOVA
Multiple Grand Slam winning tennis player
LORENZO FERTITTA

Former CEO of the Ultimate Fighting Championship (UFC)
LENNOX LEWIS
Former World Heavyweight Boxing Champion